So you've gone kayaking a few times with friends and you're hooked. You're ready to buy your own kayak but you're not sure which type would be the best fit for you. Deciding which kayak to purchase is a big decision and there are many factors to consider.  Here are a few options to help make your decision a little easier:
Types of Kayaks
There are four basic types of kayaks and each is best suited for paddling in a specific type of water. Where you plan on doing the bulk of your kayaking will dictate what type of kayak you should purchase.
Touring kayaks are primary used when paddling in the ocean.
Recreational kayaks are designed for paddling in ponds and slow moving rivers.
Sport kayaks are versatile and can be used by those who paddle in both big and small water.
Whitewater kayaks can be used for paddling in both river rapids and ocean surf.
All types of kayaks except for whitewater kayaks are available in single or tandem (two person) models.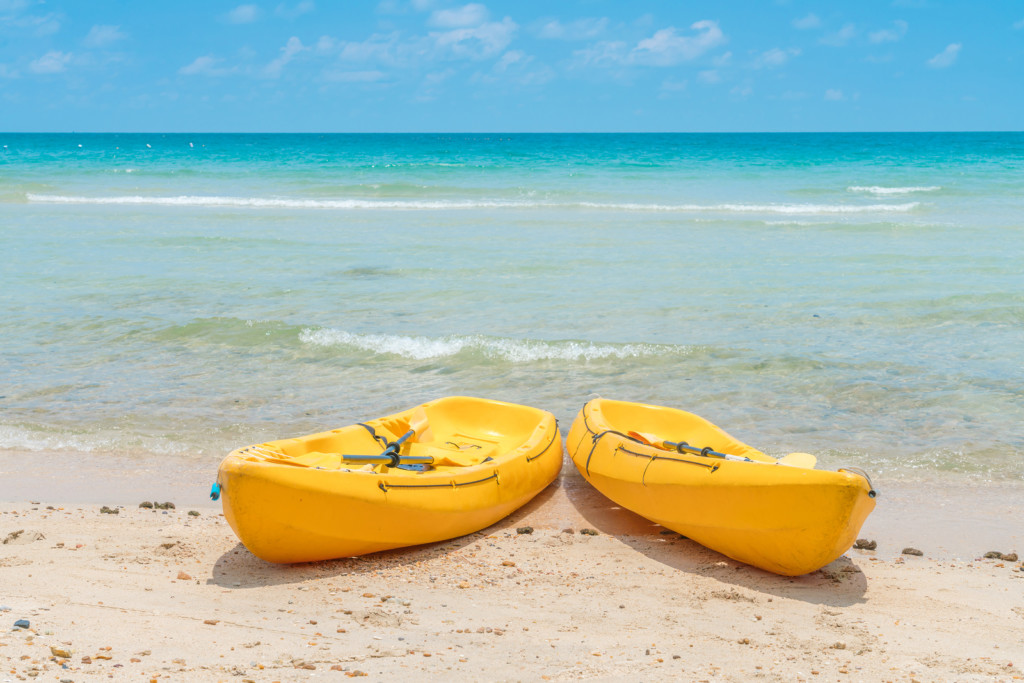 Kayak Hull Styles – Open or Closed
Just like the type of kayak, the hull style you choose is determined by what your kayak's primary use will be.
Designed for higher performance, closed hull kayaks offer the paddler better protection against the elements. Because they have greater storage capabilities, closed hull kayaks are ideal for longer paddling trips.
Great for fishing and diving, open hull kayaks are more stable. If you paddle an open hull boat, plan on getting wet as they offer little protection against the elements.
Design – Aesthetic or Functional
While you may appreciate the sleek design of a particular kayak, you will need to consider how you plan to use it when deciding on a kayak. Be sure the kayak you choose will accommodate your paddling needs.
Evaluate the size of the storage compartment hatches. A hull with a lot of storage will work better if you plan to do multi-day trips. Smaller storage hatches will be stronger and more reliable in serious conditions, but significantly limit your storage capabilities.
Kayaking Performance Factors
Two things that have a big impact on performance are length and width of a kayak.
A short kayak be able to make turns quickly. The shorter the kayak, the quicker the turn. A longer kayak will usually be slightly faster than a shorter one and will easily maintain a straight course.
The width of a kayak affects its speed and stability. A narrow kayak will typically be quicker but less stable. A wider kayak provides more stability but will take more effort to paddle, causing it to be slower.
Depending on your skill level, you may want to trade a little speed for more stability. If your skill level is advanced, you might opt for more speed.
Weight of the Kayak
Weight is another important factor to consider when choosing a kayak. The main factors impacting a kayak's weight are its size and the materials used to construct the hull. Rudders and skegs, components of the hull design, also add weight to a kayak but aid with stability and control in adverse conditions.
Modern kayak hulls are typically manufactured from polyethylene plastic, fiberglass or Kevlar. There are also some newer composite materials that combine the benefits of plastic and fiberglass.
Polyethylene plastic is the least expensive hull material with two key advantages. It is extremely durable and requires little maintenance. A heavier material, polyethylene plastic tends to have poor dimensional stability, making it susceptible to warping and denting.
Far lighter than plastic, fiberglass has much greater stability but offers less durability. Fiberglass also has a much higher cost.
Slightly more durable than fiberglass, Kevlar is lighter and more expensive.
Heat and vacuum-formed thermoplastic is a newer material, popular with several kayak manufacturers. Combining the advantages of fiberglass and plastic, it comes with a lower cost similar to that of a plastic kayak.
Ready to go Kayaking?
How experienced you are as well as where how you plan to use your kayak should ultimately be the deciding factors when choosing which one to buy. Are you looking for speed or stability? Where will you be paddling? How much storage will you need?
Acme Beach and Bike rents and sells kayaks as well as offering kayak lessons and parties. Contact or visit us at any of our convenient locations. Since 1989, we have helped thousands of folks have fun on LBI. With over 20 years of experience, we can help you choose the perfect kayak for you and your lifestyle.